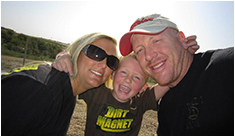 Les & Lindy Schneider bought the Painted Pony and the Chuck Wagon in December 2008. They changed the name to the Double L Saloon and The Wagon Wheel Cafe. The business is family owned and operated. Les (born and raised in West Bend) and his mom, Joni Schneider, are the full time cooks and Lindy (born and raised in Dow City, IA) can be found waitressing on the weekends. They also have a son, Carson, who you may see helping out.

On the Double L side they have updated many aspects of the bar. At the Double L Saloon throughout the year they have bands, karaoke, baggo league, ping pong league, cards, & many other fun, exciting activities!

On The Wagon Wheel Cafe side they have made some improvements, but mainly focused on the menu! The noon menu includes daily specials (often featuring homemade pies), burgers(which are ground fresh daily), and various sandwiches and salads.

Hot Beef Wednesday has become very popular, as it features tender roast beef on texas bread with a mound of mashed potatoes covered with gravy, come in early as it goes fast! They strive to provide fast, courteous service knowing that many customers have a limited noon hour.

The evening and weekend favorites are broasted chicken, steaks, seafood platters, the salad bar(Friday & Saturday nights only), and many more delicious items out of their kitchen.

The Wagon Wheel also has a private party room available for birthdays, business meetings, anniversaries, graduations, holiday parties, reunions, or whatever occasion arises.

Stop by and have a drink or great food in a friendly, fun atmosphere!